South Pasadena High School
Alumni Association - Classes of 1907-2020
In Memory
Paul Pinckney - Class Of 1960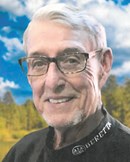 Paul Wayne Pinckney passed quietly at home on April 15, 2017 in Highland, California at the age of 74 following a short illness. Paul was born on July 10, 1942 in San Francisco to William and Barbara Wingo Pinckney. He was the beloved and treasured husband of Martha Patton Pinckney for 43 years. He is also survived by four children; Steven, Elizabeth, Diana, and Christopher, and nine grandchildren whom he adored. Paul is also survived by his sister, Marilyn Pinckney Hunt (SPHS '64). Paul dearly loved his family and friends and was fiercely loyal to all.
Paul was raised in San Francisco and Sugar House, Utah until the age of nine when he moved to South Pasadena where he lived until college. He graduated from South Pasadena High School (Class of 1960), Pasadena Community College, and La Verne University. He later earned the CPCU (Chartered Property Casualty Underwriters) designation. He also taught classes at San Bernardino Valley Community College in the CPCU discipline. His career path took him from sales to risk management in the insurance industry. He began with the Aetna Insurance Company and left to work at Mund McLauren Risk Management with his father. He retired in 2000.
Paul traveled the world both in business and pleasure, visiting many countries and continents. In high school he played football and baseball. He coached baseball for his children and was a soccer referee in both San Bernardino and Redlands. Arrowhead Alligator swim and dive team enjoyed his support for many years as grandchildren participated in swimming and diving. Paul took up the sport shotgun shooting and greatly enjoyed Trap, Skeet, and Sporting Clays. He was a loyal and committed member of the California Indian, Makaha Indian, and Pacific Indian shooting clubs serving as Chief (president) of the California and Makaha groups. He also helped manage the Arrowhead Country Club Shooting Range. In all shooting events and activities, Paul enjoyed both the sport and camaraderie of his fellow shooters. He served as president of the Rotary Club of San Bernardino North and on many committees and as an officer in Rotary District 5330.
Paul was a man of action and passion and was most passionate about his family, especially his children and grandchildren.
The San Bernardino Sun, May 14, 2017