South Pasadena High School
Alumni Association - Classes of 1907-2020
In Memory
Steven Ewing - Class Of 1984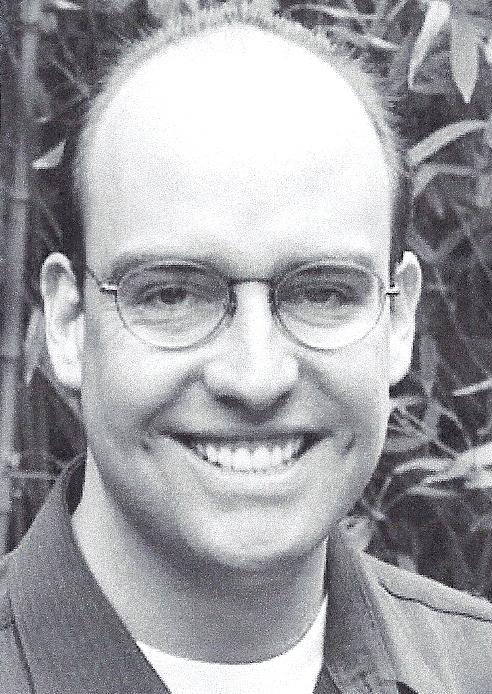 Steven Ewing died unexpectedly on March 13, 2011 at his home in Laguna Beach, California.
Steve was born in San Gabriel, California, the son of Douglas and Margaret Ewing. He attended Oneonta Elementary School and graduated from South Pasadena High School in 1984. He was united in marriage to Karilyn Marsh on June 26, 2001. Along with his wife and parents, Steven is survived by his son Vincent, and his brother Brian (SPHS '86). Steve celebrated his family, and he loved his role as a husband and father. He delighted in passing on his curiosity and enthusiasm for life to his son Vincent. Steve loved action and carried a passion for skiing, fishing, and motorsports from his own boyhood. He had a soft spot for the whimsical, the offbeat, and the unconventional--it made him smile.
Steve's imaginative nature led him to study design at Cal State Long Beach where he earned his bachelor of science in Industrial Design. As a designer, his Ewing Design Group collaborated with a diversified range of clients. Steve loved working in many areas of design, including consumer electronics, medical devices, and graphics. He produced innovative solutions and useful new concepts that were recognized with national awards and world-wide honors.
One of Steve's greatest design contributions was his work on the Mechanical Advantage Tourniquet (MAT). The innovation proved to be successful in significantly preventing tissue damage and loss of limbs. After rigorous testing, MAT was heralded as the fastest, easiest-to-use, most efficient and most preferred device in stopping critical blood loss and saving lives and limbs, and overall, the best performance tourniquet tested by the Army, Navy, and Marines.
He was on the board of directors and past president of the Laguna Beach Business Club.
South Pasadena Review, March 23, 2011