South Pasadena High School
Alumni Association - Classes of 1907-2020
In Memory
Frank John Stastny - Class Of 1961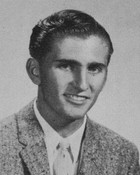 Funeral Rites Set for Decorated Santa Ana Officer Frank Stastny
Funeral services are scheduled today for Officer Frank Stastny, a decorated, 25-year veteran of the Santa Ana Police Department, who died August 17, 1994 at his home of an apparent heart attack. He was 50.
"He provided an excellent example of dedication and perseverance for us all to follow. He was just an all-around great guy, kind of quiet and unassuming but a really hard worker," spokesman Bob Clark said.
Stastny joined the Police Department in 1969 and served as a patrol officer for three years before he was promoted to Investigator in 1972. He later worked in several departments, including general investigations, juvenile investigation, robbery/homicide, sexual assaults, and parental child abductions. In 1990, Stastny received a Class A commendation for his work in investigating and prosecuting sex crimes. He achieved a 92% conviction rate, the highest in Orange County, Clark said.
"The law enforcement community, and in particular his family and those of us who knew him, will miss him deeply," Clark said.
Frank is survived by his wife Penny; daughters, Shannon and Sarah, both of Santa Ana; mother, Mary of Corona; brother, Fred of Corona; and sister, Sandra, of Corona.
Los Angeles Times, August 23, 1994