South Pasadena High School
Alumni Association - Classes of 1907-2019
In Memory
Jean Miller - Class Of 1948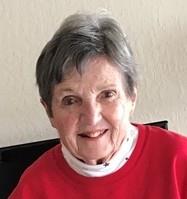 Barbara Jean Miller (December 14, 1930 - February 26, 2019), a truly lovely lady known to family and friend as Jean. She was one of twin girls (the other Joanne) born to Verne and Hazel Miller in Schenectady, New York. Her brother Richard was born four years later. The family moved to Phoenix for four years then to Southern California. Jean and Jo graduated from South Pasadena High School in 1948. She and Jo went to Stanford University and graduated in 1952 with degrees in Economics. Jean went to work for Fireman's Fund Insurance as an underwriter in San Francisco. She retired after 42 years then worked for Johnson and Higgins for another 15 years.
The ladies lived in San Francisco a couple of years, then commuted from Sausalito and Mill Valley. During those years they became involved with an organization called Children's Garden which they enjoyed very much. After retirement, Jean and Jo bought a house in Sonoma where they could grow beautiful flowers in the yard and have a big kitchen where they could cook. They became involved in the Sonoma Historical Society and the Women's Club. Jean served on the boards of both organizations. She worked a couple of years getting Women's Club Endowment Fund established.
Jean loved to travel and saw many countries in Europe and Asia, Mexico, and Australia. They took their parents to Japan, saw their friend Madge, in Hong Kong. They took yearly trips to Maui with two of their good friends. After 18 years in Sonoma, Jean moved to Spring Lake Village in Santa Rosa. She made many friends and enjoyed the activities available.
Jean is survived by her sister Jo (SPHS '48), and her brother, Duke (SPHS '53) and sister-in-law Janine.
Press Democrat, March 17, 2019