South Pasadena High School
Alumni Association - Classes of 1907-2020
In Memory
Aydin Salek - Class Of 2010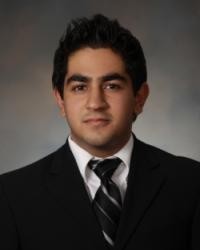 Community Comes Together to Remember Aydin Salek
In world history, Aydin Salek enjoyed igniting arguments about politics, religion, the media, U.S. foreign policy in the Middle East, South Pasadena High School's homework policy, and even how ugly the sweater vests were worn by his teacher. Sean Regan, on the other end of those debates, jokingly said Salek would sometimes drive him crazy.
Regan met Aydin as a sophomore student in his world history class, Salek's first year at South Pasadena High. "Being at a new school would be intimidating for most students," recalls Regan. "But not Aydin. He acted like he'd been there all his life. In the weeks and and months that followed, he seemed to have his hand raised after every question I posed. He'd have his hand raised even if I didn't pose a question. He'd get irritated when I didn't call on him, but I had to remind him that there were other students in the class."
Aydin loved to debate and Regan, one of many who paid tribute to the teen during a two-hour memorial in South Pasadena High's auditorium, said he will miss it. The gathering, which remembered a young man who died just shy of his 18th birthday, included Salek's parents -- Hamid Salek and Azita Rezvan -- family, friends, classmates and teachers. Some sang, others described the person they will miss while everyone caught a glimpse of Aydin's life in pictures on the big screen.
"Aydin belived he could change the world, and he did," said Regan. "He changed ours. I think that is his legacy. And, I think that's the challenge for all of us today, especially to his classmates." Regan concluded his remarks by saying: "Honor Aydin by letting your life be driven by the unrelenting and contagious belief that you can leave this place a little better than you found it. Because that's what Aydin did."
To many, Salek was gifted with leadership abilities and was going places, big places. "I was looking forward to the day I could vote for him for political office," said another one of his instructors, Maryann Nielsen, who teaches social studies at South Pas High. During the ceremony she talked about his zest for leading, learning, and, well, just doing, noting that Salek was an inspiration to others.
South Pasadena Board of Education President Dr. Richard Sonner, on behalf of his colleagues, said, "We cherish our memories of having known and worked with such an outstanding young man."
A memorial was erected in the school's "Tiger Patio" in honor of Salek, who was president of the school's American Cancer Society Club, a member of Model United Nations and the school's Associated Student Body (ASB). He was also the student representative on the South Pasadena Unified School District Board and a staff writer on the school's Tiger newspaper.
South Pasadena High School Principal Janet Anderson knew Salek as "a smart, insightful, intense, passionate, and energetic person," she said earlier in the week. "He took his role as a student leader very seriously, especially when representing the student body on the Board of Education. For his passing to impact so many young people and adults across such a wide spectrum, it is clear that Aydin was incredibly special."
Salek served as the youth representative to the executive council for the American Cancer Society in San Gabriel Valley and was active in South Pasadena's Relay for Life, a major fundraiser to help fight the disease. "He just had a vision of wanting to make a difference," said Gary Pia, who sits on the same council. "He was able to Tom Sawyer people. He could get people to do things. People would listen to him and follow his lead. He had an engaging personality and ready laugh. Although he was serious in purpose, he didn't take himself too seriously, and people just liked him."
In tribute to Salek, South Pasadena high school's newspaper came out with a special edition. The paper featured photos of Salek and stories written by the teen.
Superintendent Joel Shapiro, new on the scene since starting in his new role just a few weeks ago, said he was instantly impressed with Salek who interviewed him for the school newspaper. "He asked some of the most insightful questions I've ever been asked," said Shapiro. "He showed me immediately how intelligent he was and how aware he was of things that were going on in the community." As the student board member who attended Board of Education meetings, Shapiro said he quickly saw Aydin's leadership qualities. "He had an extremely bright future," he noted. "He was applying to Ivy League schools and I have no doubt he was going to get accepted to most of them. He was truly a very gifted young man in so many ways. It's going to be quite a profound loss for all of us."
South Pasadena Police continue to investigate the death of Salek, who died after attending a party on December 12 with three friends in Altadena.
A week ago, hundreds mourned the loss of Salek by marching from the school to the teen's home during a candlelight vigil. Among those in attendance was Assemblyman Anthony Portantino, who brought Salek in as an intern to his 44th District office. The ambitious teen also helped Portantino with his election campaign. "He was a very sharp person," remembers Portantino. "He would grill me on issues. He cared deeply about the community and was just a wonderful kid."
Cory Richards, a 16-year-old South Pasadena High student, remembers Salek as "an all-round good guy who inspired a lot of people."
Natalya Subbotina, a classmate of Salek, said Aydin "was everywhere. He literally attended every school event and supported everyone. He did a lot of good things for other people."
Salek's friend Tony Veiller, 17, said Aydin was one of the most outgoing and intelligent people he had ever met. "He had just a great future ahead of him. He had it all set out. He knew what he was going to do at every stage of his life. He could solve a hard problem easier than anyone I've ever met. He was an amazing person -- incredibly smart."
At the close of the ceremony, it was announced that the Aydin Salek Memorial Scholarship will be awarded to a deserving student. The $10,000 scholarship has been established by Salek's family and will begin with the 2010 graduating class.
Many gathered in the outside walkway afterwards to release hundred of blue and white helium-filled balloons in one final tribute to Salek.
Bill Glazier, Review Editor, South Pasadena Review, December 23, 2009