South Pasadena High School
Alumni Association - Classes of 1907-2019
In Memory
Peter Dix - Class Of 1930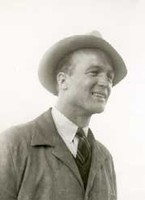 That's the way Pete Dix would have chosen to go said everyone who knew him. He had just dismounted after a Thursday game of polo when death, humanely instant, took him before he could lead his horse off the field.
We agree that Pete Dix would have approved the manner of his departure. We doubt he would have chosen September 23, 1982, because Pete was hale and robust when the end came in his 71st year. He enjoyed abundantly, great friends and a great family, and there was so much more to do. He already had done so much. He seemed always in the process of creation, this genial and unaffected gentleman. His chief sin, one supposes, was the pardonable one of pride in his family and, by extension, his pride in Spokane as a city where so many parents care deeply for their kids. He created so much of the fiber and fun in Spokane's world of competitive sports.
Yet, his way of going was kind of beau geste but those whose lives he generously and lovingly touched will be no less sad, nor less sharply feel the loss.
Spokesman Review