South Pasadena High School
Alumni Association - 1907-2020
In Memory
Harry Sims Bent - Class Of 1914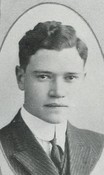 Harry Sims Bent, 62, architect, died Thursday, March 19, 1959 at home, 1240 South Marengo Avenue, Pasadena, after a long illness.
Mr. Bent, during his career, participated in designing the Los Angeles Public Library and buildings at California Institute of Technology in addition to work in New York and Hawaii.
Born in Socorro, New Mexico, he was graduated from the University of Pennsylvania. He leaves his widow Abbey; a daughter, Mrs. Nancy Hoffman; a brother Avery, and a sister, Mrs. Mary Pridgeon.
Los Angeles Times, March 22, 1959