South Pasadena High School
Alumni Association - 1907-2021
In Memory
William Warde Fowler - Class Of 1913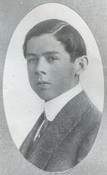 William Warde Fowler
March 5, 1895 - August 8, 1967
The following article was written by Holly Vecchio and published in the South Pasadena Review on November 6, 2013.
SOUTH PASADENA MAN A HERO OF WORLD WAR I
Lt. Warde Fowler, a genuine hero of World War I and a son of South Pasadena, is remembered vividly this Veteran's Day through letters and other memorabilia now in the possession of Margaret Lindstrom of the Fowler family.
Fowler graduated from what was then South Pasadena-San Marino High School in 1913, and before long was working for the Los Angeles Times as an editor for sports and automobiles. When President Wilson declared war on Germany in June of 1917, Fowler was so eager to serve his country that he tried to enlist in two other branches of the military before he was finally accepted into the Aviation Corps. After his enlistment, one of his Times co-workers wrote of him, "He was only a kid and had not yet started to fill out," and added that Warde "was made of sterling stuff and was a mighty promising pencil pusher."
He apparently was also a promising flyer, receiving his commission with only 18 hours of flying. He further completed a course in acrobatics, formation work, aerial gunnery, and combat with only a trifle more than 30 flying hours to his credit. Almost immediately he was sent to the western front in France, and was assigned to the much acclaimed Captain Eddie Rickenbacker's 94th Aero First Pursuit Squadron, also known famously as the "Hat in the Ring Squadron." Later he would write to his parents: "Eddie Rick (Rickenbacker) sends you his best regards. He's the boss of our outfit now. He is a mighty fine gentleman and everybody has to hand it to him."
Fowler put his "pencil pusher" skills to good use in France, where he helped publish "The Wing Slip," a weekly paper edited by the cadet aviators overseas. Early in his tour of duty, he appears to have experienced a bit of homesickness, writing to a friend, "Gee whiz, I'd like to be home and step down to that hop. I haven't heard the word dance since I let home." On February 11, 1918, he wrote a letter to his friend Bill Henry, then an editor of the Los Angeles Times. It contained the following (excerpted) list of 'don'ts" when writing to soldiers, and is still applicable today:
- (Don't ask:) "Wouldn't you like a box of candy or cigars or something" Wouldn't you. You'd give your left leg for just such a box and you know that it would take a couple of months at least to write back and tell them...Gee, it gets your goat.
- Don't refer to scores of football games etc. without giving 'em. I got a letter the other day in which someone said, "The Occidental-Pomona game was one of the most exciting I have seen for a long time." And then they failed entirely to mention who won the darned thing...
- Don't wrap packages like you were going to send them next door. A gent got a five-pound box of fudge here not long ago...(but) the five pounds had slid out one end somewhere en route...
- Don't tell him to be careful -- what's the use."
Lt Fowler's flying record earned him two group commendations for gallantry. His small, flimsy, open air "flying machine" was shot down on September 26, 1918, the opening day of the great attack in the Argonne Forest. It fell from a height of 7,000 feet, and landed in the forest with a crash that left the plane a pile of splinters. He walked away without a scratch. Excerpts from a letter to his father dated barely two weeks later wryly tell of another frightening air combat experience. "...we had quite a fight... After the fight was over we all started home and my motor quit and I came down on a stone and smashed up...our gang had seen one machine go down in flames so they decided I was missing. About two hours later I came breezing in on a motorcycle I found out near the front...I certainly got a reception. ...my mechanics nearly dropped dead - sure I was a goner. I was sorry to disappoint the boys but it had to be done."
United States' involvement in World War I lasted less than two years. After the armistice, Fowler was chosen to be a member of the European Relief and Reconstruction Commission headed by Herbert Hoover. Many years later he participated in the atom bomb test at Bikini as a Geiger counter operator.
After his discharge from the military, Fowler followed his father, J.W. Fowler, as proprietor of Fowler Brothers Bookstore. Established in 1888 by J.W., it had by then become a celebrated Los Angeles fixture. Eventually a visitor's guest book was placed in the store. The very first autograph, dated June 23, 1919, is that of Captain Eddie Rickenbacker. It reads, "My greetings to the father of a true knight of the air, Lt. Warde Fowler."
Warde Fowler died in 1967. Among those attending his funeral was Captain Rickenbacker. Margaret Lindstrom, keeper of the family memorabilia, is the wife of the late Sieg Lindstrom (SPHS '46), who was a grandson of J.W. Fowler, and was the third and last proprietor of Fowler Brothers Bookstore. Margaret Lindstrom and her son Bill remain South Pasadena residents. Another son, Sieg II (SPHS '80), resides in San Francisco.