South Pasadena High School
Alumni Association - 1907-2021
In Memory
Morell Reynolds - Class Of 1913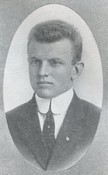 Morell Mace Reynolds, 97, of Chico, California died Saturday, April 21, 1990, in a local convalescent hospital.
Morell was born February 5, 1893 to Ralph and Frances in Portland, Oregon. At the age of two, he moved with his family to California--first to Petaluma and then to Southern California. He attended Southern California schools, but left the area to serve in the U.S. Army in France during World War I.
After the war he came to Northern California, where he worked as a bookkeeper. It was during this time that he met and married his wife, Leone Hintz, a pioneer Chico area native. Their wedding was on March 22, 1921.
In 1922 Reynolds went to work for the Ralph Watkins Dodge Plymouth Dealership (now the Chuck Patterson dealership) in Chico until his retirement in 1958. He was the company office manager and for a 10-year stint he worked as sales manager.
Reynolds joined Chico Masonic Lodge No. 111, F & AM in 1937 and was master of the lodge in 1942. He was also a member and past patron of Josephine-Chico Chapter No. 104 Order of the Eastern Star, Chico Chapter No. 42 Royal Arch Masons, Chio Commandery No. 12 Knight Templar, Sacramento Scottish Rite Bodies, Ben Ali Temple of the Shrine-Sacramento, Chico Post 17 American Legion and the Chico Hi Twelve Club. He was also a longtime member of the Bidwell Memorial Presbyterian Church.
For nearly 47 years, Reynolds set the tempo on the piano for processions that are basic to the ceremonies for installations of officers in the Chico Masonic Lodge No. 111, the Josephine-Chico Chapter Order of the Eastern Star, Job's Daughters, DeMolay, and Rainbow Assembly. In 1978 Chico Masonic Lodge presented Reynolds its Hiram Award, which is given to an outstanding Mason.
Morell is survived by his wife, Leone of Chico.
Chico Enterprise-Record, April 22, 1990