South Pasadena High School
Alumni Association - 1907-2020
In Memory
Glenn W Garwood - Class Of 1914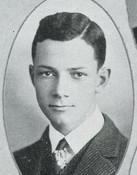 Veteran Parks Head Begins Retirement
Glenn W. Garwood, park superintendent and former street superintendent of the City of South Pasadena for the past 30 years, has retired from city service.
Robert Berlin has been appointed park superintendent in Garwood's place and has assumed the duties of that office.
Garwood entered the city's service on April 25, 1928 as park superintendent. Previous to that time he was engaged in landscape contracting. He was selected for the position because of his horticultural background and landscaping knowledge. Garwood supervised the actual development of Garfield Park, Arroyo Park, Eddie Park, and Library Park.
During Garwood's period of service with the city, he was also appointed street superintendent in 1933 and continued in this capacity until July 1, 1937 when the department was reorganized under the supervision of the city engineer.
Garwood served as president of the California Chapter of the American Institute of Park Executives in 1945; and was a Senior Fellow in the American Institute of Park Executives, a national organization.
He has been active in local organizations, having been a member of the Kiwanis Club and American Legion Post No. 140, and at one time, was a member of the famous Drum and Bugle Corps which won national honors.
In recognition of his 30 years of service, the City Council awarded Garwood a retirement badge and plaque at its regular meeting June 18. Glenn and his wife, Myrtle, lived at 807 Adelaine Avenue, South Pasadena, for 35 years, but since his retirement have moved to Dana Point, where they are building a new home.
Pasadena Star News, June 24, 1958
************
Glenn W. Garwood died on April 25, 1974 while living in Dana Point.