South Pasadena High School
Alumni Association - 1907-2020
In Memory
Simeon V Kemper, Jr - Class Of 1914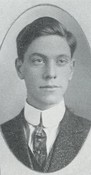 S.V. Kemper is Dead at 81
Funeral services were held in Los Angeles for Butte native Simeon V. Kemper, Jr., 81, who died Friday, September 4, 1974 in Los Angeles.
Kemper was vice president for many years for one of the oldest incorporated business firms in Montana, Butte Land and Investment Company. It closed in December 1969.
Some of the most famous names in Montana's early history are entered in books from the company. These include W.A. Clark, Marcus Daly, F. Augustus Henize, and others. The books were donated by Kemper and his sister, Helen Kemper, to the Montana Historical Society when the business closed.
Mr. Kemper is survived by his sister in Los Angeles; nephews in Pennsylvania, and a niece in Los Angeles.
Montana Standard, September 11, 1974