South Pasadena High School
Alumni Association - 1907-2020
In Memory
Lawrence Evans Thompson - Class Of 1936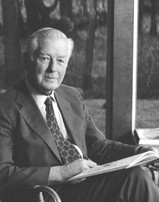 Lawrence E. Thompson, 85, who received a distinguished service award for his contributions as a professor at Harvard Business School, died March 11, 2005 in his Lincoln, Massachusetts residence. Mr. Thompson was born in Los Angeles and was raised in South Pasadena, California. He graduated from South Pasadena High School and Dartmouth College. He had lived in Lincoln since 1960.
Mr. Thompson enlisted in the Navy during World War II and served from 1942 to 1945. He was a lieutenant on three combat patrols aboard the submarines USS Hawkbill and USS Blackfin in the Pacific. After World War II, Mr. Thompson attended Harvard University, earning a master's degree in public administration and a doctorate in economics.
Mr. Thompson was a member of the faculty at Harvard Business School, teaching finance from 1952 until his retirement. He was a director of several Boston companies, including Eastern Gas and Fuel, now Eastern Enterprises, Costar Corp., and Bentley Publishers. He was associate editor of the National Tax Journal from 1951 to 1956 and editor from 1957 to 1966. He also coauthored a book, " Effects of Taxation: Investments by Individuals."
Mr. Thompson was a trustee of Emerson Hospital in Concord and a former member and chairman of the Lincoln Finance Committee.
Mr. Thompson leaves his wife, Dorothy Abbott Thompson (SPHS '36); a son, Elliott C. of Concord; a daughter, Christina A. of Lincoln; a sister, Barbara Thompson Martin (SPHS '40) of California; and six grandchildren. He was the father of the late Susan L. Inman.
Boston Globe, March 20, 2005