South Pasadena High School
Alumni Association - 1907-2020
In Memory
Robert C Daigh - Class Of 1940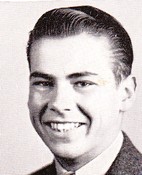 Robert C Daigh of Corrales, New Mexico, died December 18, 2003. He was born in Los Angeles, California on August 28, 1923. He graduated from the University of Southern California with a degree Cum Laude in Chemical Engineering. After training as an engineering officer in the US Navy, he was assigned to the destroyer Cushing, close to the end of the war with Japan and was present in Tokyo bay at the signing of the armistice. He returned to Pasadena and was active for many years with his own construction and design company, as well as with numerous civic organizations.
In 1973 he moved to New Mexico, first settling in Taos and then moving to the Albuquerque area in 1987. He loved the sport of foxhunting and remained a devoted supporter of Juan Tomas Hounds, serving as Master of Foxhounds for several years.
He is survived by his widow, Janice; three daughters, Ellen Daigh Herbertson and husband, Daniel, Robin Daigh Harry and husband, Edward, and Shelley Daigh Sullivan and husband, John; and six grandchildren.
Albuquerque Journal, December 20, 2003