South Pasadena High School
Alumni Association - 1907-2020
In Memory
Frank R Hart Jr - Class Of 1940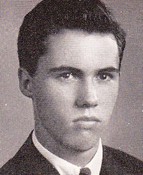 Frank R. Hart Jr. of Winston, Oregon died August 3, 2007 of heart failure. He was 84.
He was born July 25, 1923, in Los Angeles to Frank and Enid Lewis Hart. He and his wife, Barbara, were married June 18, 1947, in Los Angeles.
Hart served in the U.S. Army, 1st Infantry Division, from 1945 to 1946 and was awarded the Silver Star medal. He worked in real estate and was the founder and director of Wildlife Park.
Survivors include his wife; four daughters, Louise of San Diego, Nancy of Springfield, Frances of Portland and Mary of Redondo Beach, Calif.; a brother, John of San Diego; a sister, Enid Hart Douglass of Claremont, California; four grandchildren and one great-grandchild.
The Register Guard (Eugene, Oregon), August 14, 2007