South Pasadena High School
Alumni Association - 1907-2020
In Memory
Artemus W Martini - Class Of 1940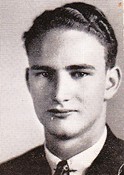 Art Martini of Oceanside, California, died May 3, 1999. He left behind his wife Marge and his daughter Marianne.
Art had been a part of the South Pas poker gang for a number of years, attending regularly with Corty Darrow '37.
Art's business career began when he left the telephone company to become owner of a boat sales and repair shop operated in San Diego.
HE LOVED SOUTH PAS!