South Pasadena High School
Alumni Association - 1907-2020
In Memory
Louis Edward Spence Jr - Class Of 1940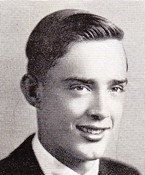 Louis Edward Spence of Corvallis died February 20, 2008 at the age of 85 at West Hills Assisted Living Community.
Louis was born in Elmwood, Illinois on October 6, 1922, to Alva Lee and Wilda Tyler Spence. He had two brothers, Willis and Harry. The family moved to South Pasadena, CA., in 1923, and he graduated from South Pasadena High School in 1940. He joined the Army in November of 1942 and was stationed at Camp White and Camp Adair before going overseas with the 91st Division in March of 1944, where he served as a medic in Africa and Italy. He was awarded two Bronze Stars, three Battle Stars, and the Medical Combat Badge while serving overseas. He was discharged in Novemer 1945.
He married Julia Bradbury of Klamath Falls on February 26, 1944, in Corvallis. They moved in April 1946 to Klamath Falls, where he worked for the Miller Brothers Oldsmobile-Cadillac auto dealership for 43 years. He moved to Corvallis in July 2004.
He was a life member of the VFW Post 1383, Elks Lodge 1247, and the American Legion.
He was preceded in death by his wife, Julia; mother; father; and two brothers. He is survived by his son and daughter-in-law, Clayton and Janet Spence of Corvallis; three granddaughters and one great-grandson.
He thoroughly enjoyed many hunting trips with his son, family gatherings with his granddaughters, and dancing with his wife.