South Pasadena High School
Alumni Association - 1907-2020
In Memory
Kathryn 'Kit' Welter (Ludwig) - Class Of 1940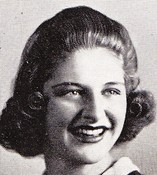 Kathryn Louise (Welter) Ludwig, 83, a longtime Duarte resident passed away Monday, December 27, 2005. "Kit" was born September 5, 1922 in Streator, Illinois. She lived there and attended grammar school until moving with her family to California in 1935. Kit attended South Pasadena High School and graduated with the class of 1940. She went on to attend Pasadena City College and upon graduation, enlisted in the Navy serving her country with the Women for Volunteer Emergency Service (the WAVES) in 1943. While in the WAVES, Kit served as a Link Trainer Instructor and taught Navy Cadets Instrument Flight. She was honorably discharged in 1945.
Following her service in the Navy, Kit enrolled at the prestigious Pasadena Playhouse and studied directing. While attending the Pasadena Playhouse, she met and married Kenneth Ludwig of Casper, Wyoming in 1951. In 1957, the Ludwig's moved to the newly developing Fish Canyon area of Duarte. Kit lived at her residence in Fish Canyon for 48 years. During her working career, Kit was instrumental in starting the very successful Courtesy Temporary Employment Service in Arcadia, California in 1969. She served as Manager of the Arcadia Branch Office and through her never ending hard work and dedication, helped many individuals achieve employment at companies such as Parsons, Xerox and the Jet Propulsion Laboratory. Kit retired from Courtesy Temporary Services in 1989 after 20 years of service. Kit will be remembered fondly for her time she dedicated to the South Pasadena High School Alumni Association as well as her many years of volunteer work in support of the Pasadena Playhouse and Associates.
Kit is preceded in death by her oldest Son, Kevin Ludwig who passed away in August 2003 and her former husband, Kenneth Ludwig who passed away in February 2004 as well as her late sisters, Deborah Lombard and Anne Brown. Her survivors are her Son Kirk Ludwig, daughter-in-Law, Lori Ludwig and grandsons, Keith Ludwig and Kristopher Ludwig all of Duarte, as well as nieces, Nancy Burnett, Carolynne Lombard, and Deborah Powers who all reside in Southern California.
Pasadena Star-News, January 7, 2006