South Pasadena High School
Alumni Association - 1907-2020
In Memory
Howard Walter Wright Jr - Class Of 1940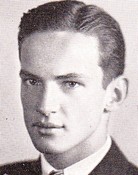 Howard Walter Wright Jr., died July 17, 2007 at his home in Long Beach, from complications of diabetes. Born May 6, 1922 in Pasadena to Howard Walter Wright Sr and Ruth Shelton Wright, he attended San Marino Grammar School, South Pasadena Jr. High School, and Stanford University. He served on a destroyer during WWII as a navigator. He married Jane Caroline Miller in 1947 and then went to work!
His career as President of SWECO continued until his retirement in 1983. As has been the family tradition, his life was filled with a love for the ocean and sailing. His early years were spent sailing out of Avalon and racing. With his young family, he cruised the coast of California and Mexico spending lots of time anchored in Howlands Cove at Catalina Island. After his retirement, he and Jane spent six years cruising and exploring Europe with friends and family on their yacht "Compadre". He was commodore of the Los Angeles Yacht Club in 1962. He was also a member of the Transpacific Yacht Club, the California Club, the Long Beach Yacht Club, and a member of the Cruising Club of America for many years.
Mr. Wright is survived by his wife of 60 years Jane, brother Robert Shelton Wright of Honolulu, his three sons, Howard Candler Wright, William Grandfield Wright, and Richard Shelton Wright, their wives, 6 grandchildren, 1 great-grand child and many nephews and nieces.
Pasadena Star-News, July 19, 2007