South Pasadena High School
Alumni Association - Classes of 1907-2020
In Memory
Homer C Chaney - Class Of 1942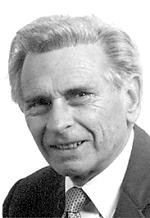 Homer Campbell Chaney (June 19, 1924 - October 22, 2004) born in Los Angeles, spent his childhood in Santa Ana. When he was in high school, the family moved to San Marino. He graduated from South Pasadena High and entered Dartmouth College as a member of the Class of 1946.
Homer served as a combat soldier in the 3rd Army under General George Patton in France and Germany. When the European conflict ended, he managed a ski resort in Switzerland and taught US soldiers in Vienna, Austria before returning to the United States in 1946. He resumed his education at Dartmouth College, earning his BA summa cum laude in History and membership on the Phi Beta Kappa Society. Following his marriage in 1950 to Anita Vollmer and a brief stint selling life insurance in Los Angeles, Homer pursued his MA and PhD at Stanford University. In 1959 he went to Bakersfield to teach at the Fresno State off-campus center. In 1964-65 he studied statistical geography at Northwestern University on a National Science Foundation grant.
In 1968 Homer married Lois Newell O'Neal, and in 1970 he became an original member of the Cal State Bakersfield faculty. He served four years as chair of the History Department and three years as a CSU Academic Senator. Teaching provided the greatest joy in his life. Devoted to his students, he took special pride in knowing that so many of them were the first in their families to earn a college degree. In 1993 Homer retired early on a golden handshake, but he loved teaching so much that he gave two successive years to the university as an unpaid professor. He was one of the first professors to reach off-campus students via the university's television channel.
From 1995 until his failing health prevented him from giving further community service, Homer served on the boards of the CSUB 60+ Club and the Henrietta Weill Memorial Child Guidance Clinic. He was also a member and ardent supporter of the League of Women Voters. As a member of the Dartmouth Alumni Association, he enjoyed interviewing young local applicants to Dartmouth College.
Homer is survived by his wife, Lois; three children: Denise Jones, Christopher Chaney, and Cameron Chaney, and seven grandchildren.
Bakersfield California, October 27, 2004