South Pasadena High School
Alumni Association - Classes of 1907-2020
In Memory
James J "Jim" Mulhearn Jr - Class Of 1963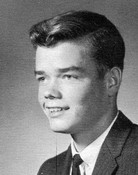 James J. Mulhearn, Jr.
James J. Mulhearn, Jr., born April 10, 1945 to Agnes and James Mulhearn in South Pasadena, California, died November 27, 2002 In Houston, Texas at the age of 57. Mr. Mulhearn served his country as First Lieutenant in the U.S. Marine Corps from 1968 until 1970, earning the Purple Heart and Silver Star Navy Commendation while serving in Vietnam. A resident of Kingwood, Texas for six years, Mr. Mulhearn previously lived in San Francisco, New Orleans, and London while working for Chevron Corp before retiring in 1997.
Mr. Mulhearn was preceded in death by his parents and is survived by his wife, Kathleen Mulhearn; daughter Kathrine, sons James and Michael; sisters Agnes Mulhearn Bellevue and her husband Rob, of Long Beach, CA, and Anne Coffman and her husband Gene, of Escalon, CA; and many nieces, nephews, and dear friends.
The Contra Costa Times, Walnut Creek, CA - November 30, 2002