South Pasadena High School
Alumni Association - 1907-2020
In Memory
John Woodman Harris Jr - Class Of 1940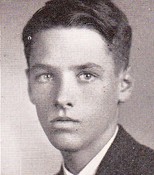 John Woodman Harris, Jr., age 85, passed away on October 9, 2008 in San Gabriel, California, after a brief hospitalization. Born October 13, 1922 in Los Angeles, he graduated from the University of Southern California in 1949. While at USC, he was a member of Sigma Chi Fraternity and was a Fine Arts Major. In May of 1950, John married Maryjane Woodrow, his life-long love.
John and MJ first lived in Hastings Ranch, California, where they began a family. In 1957 they moved to San Marino. John began his career as a cartoonist with the Star News and was a contributing cartoonist with the Los Angeles Times and New Yorker Magazine. Following that, and for almost 50 years, he was a certified financial Advisor for Investors Diversified Services (IDS) and American Express. John was a dedicated member of Table Round, an active member of Sigma Chi Fraternity, USC Alumni Association, the Pasadena Symphony, and a life-long member of San Gabriel Country Club. He was on the San Marino Public Library Foundation Board, and was an instrumental organizer and fund-raiser for the new Crowell Public Library. John was first and always a loving husband and devoted father to his four sons. He was deeply involved in many of their organized activities, including coaching their Little League and Pony League baseball teams, coaching their basketball and flag football teams, a Boy Scout leader, and more. John loved the outdoors, and took his boys on many camping trips and fishing expeditions all across the western half of the United States and Mexico. And since his youngest son (Evan) arrived nearly sixteen years after his first three (John, Ralph and Brent), John did most of it twice! To have known John was to know an engaging humor and rapier wit. He had an expert grasp and insatiable fascination on a wide variety of subjects including world history, World Wars, as well as the Civil War, classical and big band music, politics and economics. His passion for Dodger baseball somehow tied them all together, making him a true Renaissance man. Fortunately, he had an abiding skill that few possess in sufficient levels; he listened.
John is survived by his sister, Sally of Corona del Mar, California, his son John the 3rd (Sheri) of Springdale, Arkansas; twin sons Ralph (Sarah) of Longmont, Colorado, and Brent (Pat) of Spokane, Washington; and son Evan (Leela) of San Diego, California. John and Maryjane have 9 grandchildren.
Pasadena Star-News, October 17, 2008