South Pasadena High School
Alumni Association - 1907-2020
In Memory
John Stillwell - Class Of 1925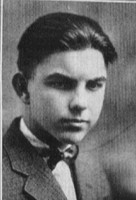 South Pasadena, December 27, 1928, John E. Stillwell, Jr., aged 20 years, a native of California, beloved son of Mr & Mrs John E. Stillwell.
Los Angeles Times, December 28, 1928
************************
John E Stillwell, Jr., age 20 who died this morning, December 27, at the home of his parents, 1121 Mound Avenue. He returned last Saturday from several months travel in Europe and was taken ill with influenza on Christmas Day, which he was spending with his family, and died of double pneumonia.
He would have graduated from Stanford University in June, having taken the summer and autumn quarters for the European travel trip. He graduated from SPHS in '25.