South Pasadena High School
Alumni Association - Classes of 1907-2020
In Memory
Grace Amy Wallace (Beckett) - Class Of 1927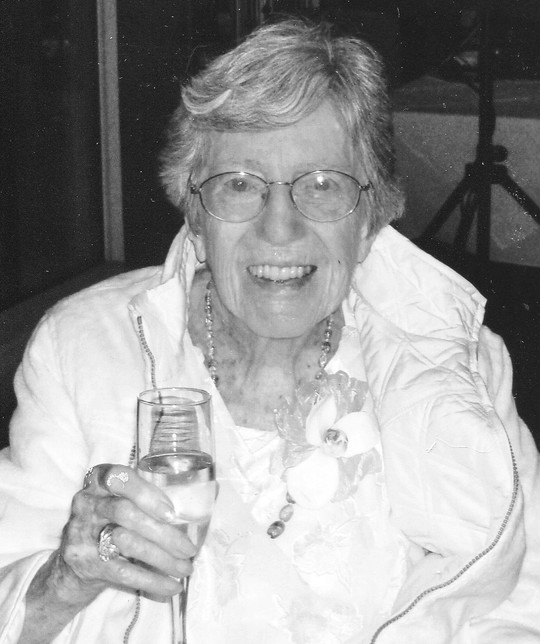 Grace Wallace Beckett was born in South Pasadena on March 17, 1910. Her older sister Jane Wallace Hewitt '26 and brother Hugh Wallace '32 also attended South Pasadena schools. After graduating in 1927, Grace attended PCC for two years. She finished her PE degree at UC Berkeley. She began her teaching career in Oceanside, then returned to SPHS to teach PE (1933-1939).
Grace met Bill Beckett at a dance in the SP Women's Club. They were married in June 1939 at St James Episcopal Church. They moved to National City for several years, where she again taught PE. Grace got a position in San Marino at Huntington School teaching 7th and 8th grade math. Bill worked in LA in marine transportation. They purchased a home in San Gabriel, where they lived until she retired.
Grace had two sons, Bill and Jim. Bill married Betty Fitch '62 and Jim married Kim Cormany from Camarillo. Both sons and wives had two boys and one girl. Grace and Bill were wonderful grandparents.
They moved to a hilltop home in Carlsbad in 1968, close to Betty and Bill who lived in Vista. Grace was active in Carlsbad Women's Club, Republican Women's Club, and playing bridge. Bill died in 1991. Grace stayed active in her home until she moved to La Costa Glen in 2002. She was healthy and active there for another 12 years. She celebrated her 100th birthday with good health and cheer and the champagne that she loved. She was even toasted by Willard Scott on NBC in 2010.
Grace fell and broke her femur in 2003, requiring her to be in a wheelchair. She was not sick. She died on January 19, 2015, just two months shy of her 105th birthday. She joined her husband in a "view lot" at Rose Hills in Whittier.
Betty Fitch Beckett '62