South Pasadena High School
Alumni Association - Classes of 1907-2020
In Memory
Frederica Louise "Freddie" White (Clark) - Class Of 1927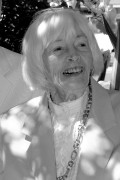 Frederica "Freddie" White Clark passed away on October 31, 2009 at the age of 99. As both a child and as an adult, she lived in many parts of the country, residing in Carmel for 32 years.
Freddie was a graduate of South Pasadena High School and attended the Universty of Colorado until 1929, when the Depression struck and she returned to Southern California to live with her beloved mother and father, Marie and Frederic White. In 1934 she married Rembert Thigpen and moved to San Francisco. Together they raised three children: Stephen Thigpen of Monterey, CA; Peter Thigpen of Kentfield, CA; and Jeffrey Thigpen of Bellingham, Washington.
In 1963 Freddie married Jack Dreyfuss, whose daughters, Dally and Lynn, became part of her new family. Freddie and Jack lived happily together in San Mateo and then Los Altos where Jack passed away in 1974. She moved to Carmel in 1975, and in 1980 married architect Hewitt Clark. Freddie and Hewitt lived in Carmel until 2007 when they moved to the Carlton Plaza Senior Living Facility in San Jose.
Throughout her long life, Freddie maintained a variety of interests. She loved to travel, and made numerous trips to Europe, Japan, Australia, and New Zealand. She had a deep appreciation for -- and drew great inspiration from -- the beauty and mystery of the natural world around her. She was also an avid bridge player, a long time volunteer as a docent at the Monterey Museum of Art, a writer, and a gardener. She combined her passions for writing and gardening in her regular columns for the Monterey Herald on the topic of growing, tending to and utilizing herbs. Over time, she became well known on the Monterey Peninsula as the "herb lady." She had a particularly "green thumb" and her many homes over the years boasted colorful herb and flower gardens.
Freddie always reminded her loved ones not to mourn her when the time of her passing arrived, for she considered herself to have had a great life, one in which she had a multitude of wonderful experiences, including raising her family, interesting challenges, and having many close friends and family members who she loved and with whom she shared her life. Freddie will be remembered as a loving matriarch whose vivacious personality, wonderful sense of humor, enormous energy and positive spirit were always a joy to her family and friends. She is survived by her devoted husband, Hewitt; her three sons, nine grandchildren, 13 great-grandchildren, and one great-great-grandson.
The Monterey Herald, November 5, 2009