South Pasadena High School
Alumni Association - 1907-2023
In Memory
Dorothy Abbott (Thompson) - Class Of 1936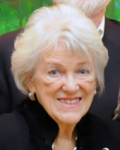 Dorothy Abbott Thompson a resident of Lincoln, Massachusetts since 1960, died May 16, 2012. She was a dedicated supporter of the visual arts in Boston for over four decades.
Born in St. Paul, Minnesota on September 26, 1918, she graduated from Carleton College and attended the Art Students League of New York. In 1942 she married Lawrence Thompson, then a lieutenant in the U.S. Navy. After World War II, the couple moved to Cambridge, Massachusetts, where they lived before settling in Lincoln in 1960.
Dorothy first became active in the Boston art scene in the 1970s. She was a member of the Board of Trustees of deCordova Museum and, later, the Board of Overseers of the Danforth Museum. An expert in Boston Expressionism, she published a monograph on the origins of Boston Expressionism in 1986 and followed this with an important biographical study of Hyman Bloom ten years later. She curated a major retrospective of Bloom's work, "The Spirits of Hyman Bloom: Sixty Years of Painting and Drawing," at the Fuller Museum of Art in 1996, and is widely credited with having helped reignite interest in the work of Bloom and other Boston artists of the mid-twentieth century.
Her gifts as a curator were especially evident in her group shows, most notably a wide-ranging, mixed-media exhibit called "Landscape as Metaphor: The Transcendental Vision" at the Fitchburg Art Museum in 1993, and a recent series of print shows at the Concord Art Association: "The Master Printers" (2007), "Exploring the Woodcut" (2008), and "The Unique Print" (2009). An artist in her own right, she exhibited throughout her career, culminating in a 2010 retrospective of her paintings, prints, and drawings, 1970-2010, at the Concord Art Association when she was 91.
An elegant hostess, a wonderful cook, and an inveterate traveler, Dorothy will always be remembered for her high spirits, her generosity, and her warm-hearted support of those who were lucky enough to fall within her sphere of influence. She is survived by her son, Elliott, his wife Dorothy Barr; her daughter, Christina, her husband, Tauwhitu Parangi; and six grandchildren.
The Lincoln Journal, May 21, 2012