South Pasadena High School
Alumni Association - Classes of 1907-2020
In Memory
Warren H Atkins - Class Of 1937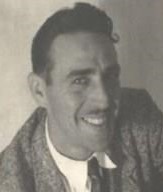 Warren Atkins passed away peacefully at the age of 98 with his wife and daughter by his side at Sequoia Hospital in Redwood City on March 17, 2017. He was married to Sally, the love of his life, for 67 years and they shared a beautiful and long life together, working, parenting, traveling and laughing side by side. Warren was adored by his only child, Nancy, as well as by his two grandchildren.
Warren was born December 2, 1918 in Toledo, Ohio, the only child of Henrietta and Edgar Atkins. When he was in high school, his family moved to California where he attended South Pasadena High School and graduated from in 1937. Right after graduation he entered the Civilian Conservation Corps where he learned surveying, firefighting, and outdoor construction. After two years in the Cs, Warren joined the United States Merchant Marine. This began his lifelong love of the sea. Warren became a captain in the Merchant Marine. During World War II, his ship, the Camden, was torpedoed and sunk off the coast of Oregon. All the men, with the exception of one, were miraculously rescued! Warren served in the Merchant Marine before, during and after the war.
Warren's first shoreside position was with Coastwise Line Steamship Company which later developed into Pacific Far East Line. During his more than 25 years at PFEL, Warren became a maritime consultant and along with Sally, established the Atkins Maritime Services. He wrote a handbook and textbook on the maritime field entitled Modern Marine Terminal Operations and Management. He taught several classes on the subject at Peralta College in the East Bay and his book has been used worldwide at ports and universities.
Following his retirement from the maritime industry, Warren became a wood artisan. Warren created over 500 outstanding art pieces that have been featured and sold in galleries and purchased as gifts for international dignitaries. Warren possessed a giving, benevolent and compassionate heart and willingly and enthusiastically helped anyone who needed his help. Warren and a fellow woodturner started a woodturning club at Hillsdale High School and became a teacher and mentor to many other woodworkers in the Bay Area. If anyone needed a hand with something they were doing, Warren Atkins was always there. He will be tremendously missed by everyone who knew him.
Neptune Society of Northern California, March 2017