South Pasadena High School
Alumni Association - 1907-2020
In Memory
Hancock 'Bill' Banning III - Class Of 1940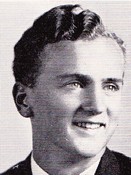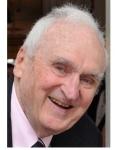 Hancock Banning III, better known as Bill, died suddenly on November 16, 2014 with Judy, his wife of 65 years at his side. He is also survived by his children, John and his wife Sheila, Julia (Shelley), Joe and his wife Lisa, Ned and his wife Laura, and Ellen Anderson; as well as his brother, Robert and his wife Joan; his sister, Elizabeth Ames; and six grandchildren.
Born to Hancock Banning Jr and Florence Banning on May 12, 1921 in Schenectady, New York, he was a third generation descendent of Phineas Banning, the founder of the Port of Los Angeles. While an infant, his family returned to California and he grew up in San Marino.
After graduating from South Pasadena High School in 1940, Bill attended the University of California at Berkeley and served in the ROTC through 1943 when he joined the US Navy, training as a naval aviator. As a Lieutenant Junior Grade, he flew F6F Hellcats with Fighter Squadron VF-31 from the USS Belleau Wood in the Pacific Theater until the end of World War II in 1945. Upon his return to Berkeley he became president of the Psi Upsilon fraternity, was a student manager of the Cal Football team, met his future wife, Julia Sheldon McCook and graduated in 1947. He began his career in real estate management at Coldwell Banker and Company in downtown Los Angeles.
Bill married Judy in 1949 and lived in South Pasadena until 1958. The family then moved to Santa Monica as he opened and managed the Beverly Hills office of Coldwell Banker. In 1962 he resigned from Coldwell Banker, and they moved to Balboa where he managed various Banning family holdings in Southern California until 1984. He remained active in real estate for several more years.
Throughout his life Bill participated in many civic and philanthropic organizations. In keeping with his and Judy's lifelong support of education, he was president of the Harbor Day School Board of Trustees, and served on the boards of the Mardan School and the Newport Harbor Art Museum and was co-chairman of the Newport Beach 75th Anniversary celebration in 1981.
Always an outdoorsman, Bill was active in the Newport Harbor Yacht Club, the Club de Cazadores La Grulla and other clubs involving hunting, horseback riding, skiing, and tennis. Starting with family camping trips in pup tents in the Sierras and beach camping in Baja, Bill and Judy eventually purchased a retreat in northwest Montana where the family continues to gather each summer.
Bill will be greatly missed. Fiercely independent, he engaged everyone with his uniquely challenging, spirited, and authentic manner. He will be remembered for his warmth, charm, intellect, sharp wit, work ethic, and extraordinary integrity. His exceptional life will continue to be an inspiration to his family and friends.
Orange County Register and Los Angeles Times, November 22, 2014