South Pasadena High School
Alumni Association - 1907-2021
In Memory
Helen Bellinger (Seaborne) - Class Of 1942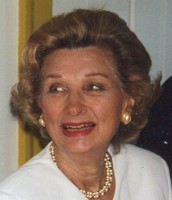 Helen B Seaborne, 89, passed away peacefully on March 12, 2014 at Huntington Hospital in Pasadena, California with family by her side. Until suffering a stroke the day prior, she had remained the beautiful, lighthearted and thoughtful lady whom her family and friends have always loved. She is fondly remembered for her generous nature, for the kindnesses she offered in place of judgment and her willingness to put family before herself. She acknowledged every birthday and anniversary, and her love of all things Swedish was often reflected in her charming greetings. Her special signature could be recognized in everything she did.
Helen was born in Monrovia and attended Oneonta Elementary School and South Pasadena Junior and High Schools. At her father's insistence, she learned to play the accordion to entertain family guests, participated in swimming and diving competitions at Alamitos Bay and played a social game of tennis at the old Dos Robles Club. She went on to earn an education degree at the University of Wisconsin, Madison, where she met her future husband, John K. Seaborne Sr.
Helen and John spent most all of their married life in San Marino. Their handsome and comfortable home reflected Helen's exceptional taste and was a constant place for family gatherings, where memorable traditions were established. Helen welcomed company for all the holidays and, just last year, she hosted her extended family for Christmas in Carpinteria, where they had the good fortune to celebrate Helen's Almost 90th Birthday.
Over the years, Helen was active in the Assistance League of Pasadena, Huntington Memorial Clinic Auxiliary, Las Floristas Children's Charities, and Pasadena Alumnae Chapter of Delta Gamma. She also found great enjoyment as a longtime member of the San Marino More-Social-Than-Sewing Club, as she put it, and The Town Club in Pasadena. Helen expressed her passion for the decorative arts through studies at UCLA and then by providing professional residential services as a partner of Swansea Interiors with her good friend, Charlotte Swanson.
Helen is survived by her three sons and their families. Helen also leaves her sister, Jean Bellinger Brunnenkant (SPHS '34); nieces, nephews, and loyal friends in San Marino and Pasadena.
Helen was predeceased by her husband of 63 years, John, to whom she always devoted great care, and especially so during his final years; and her beloved parents, Hart and Ruth Bellinger.
San Marino Tribune, March 20, 2014