South Pasadena High School
Alumni Association - 1907-2020
In Memory
Jack T Bradford - Class Of 1941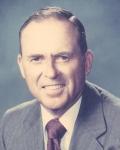 Jack Taggard Bradford, age 91, loving husband, father, grandfather, and great-grandfather, passed peacefully from death to eternal life on December 15, 2014. Jack and Barbara, his wife of 61 years, had recently moved from their long-time home at Emerald Bay in Laguna Beach to Rowntree Gardens Senior Living community in Stanton, California.
Jack was born in Pasadena on December 5, 1923 and grew up in San Marino. His parents were Luther and Ruth Bradford. He attended South Pasadena-San Marino High School, Pomona College, and UCLA. Jack and Barbara raised their family in San Marino and retired to Laguna Beach in 1979. Serving as a Captain attached to the 4th Marine Division during World War II (including the Battle of Iwo Jima, where he was wounded twice and received a Purple Heart) and the Korean War, Jack was proud to serve his country.
Jack is perhaps best known as a history teacher and coach at San Marino High School from 1954 until his retirement. He touched the lives of many young people through mentoring and being an encourager. His successful coaching career in tennis, golf, cross-country, and track produced many league and CIF championship teams. Jack was also a Master Teacher. Lovingly known to many as "General Jack" he was more interested in the character of the young people he taught and coached than in their performance. Following his retirement from teaching, Jack enjoyed playing tennis and golf. He was an avid gardener and also volunteered several thousand hours at the Mission Hospital in Laguna Beach. He loved spending time with his family and being a part of the beach community in Emerald Bay.
Besides his wife Barbara, Jack's surviving family includes his children: Leslie (Bob) Cannell of Yuma, Arizona, James (Shery) Galbreath of Denver, Colorado, Kim (Dave) Butts of Terre Haute, Indiana, and Ruth Anne (Phil) Reddick of San Gabriel, California; his sister Nancy Butler of Corrales, New Mexico; eight grandchildren, sixteen great-grandchildren, and numerous nieces and nephews.
Los Angeles Times, January 22, 2015