South Pasadena High School
Alumni Association - 1907-2020
In Memory
Harlan H Bradt Jr - Class Of 1941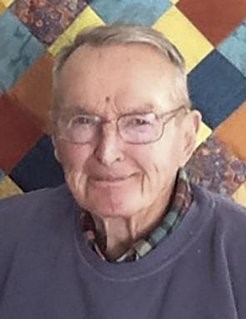 Harlan 'Buck' Bradt, age 96, passed away peacefully at home June 18, 2018 in Cottage Grove, Wisconsin. He was preceded in death by his parents, Harriet and Harlan Bradt; his sisters, Elizabeth Taylor, Harriet Oestreicher, and Elinor Dunn; and his first wife, Marjorie Mahon.
Harley's father was a mining engineer; consequently, their family moved frequently. As a teenager, Harlan worked at the famous Haile Gold Mine in South Carolina that his father had re-opened. He was in Florida when his father helped build the Tampa-St Petersburg causeway and just outside Palm Springs, California when his father opened the massive Iron Chief mine. After high school in South Pasadena, he worked at Lockheed Aircraft Company and then enlisted in the Naval reserves where his mechanical skills would serve him well as World War II approached. He later moved to Palo Alto and worked at Pan Am, both as a mechanic and liaison, shuttling Army officers, etc to the Pacific theater. Harley met Marjorie in 1943. They married in 1945 and lived in New York, Montreal, and Texas before settling in Lake Mills, Wisconsin on a small farm.
In 1960 they bought the family farm, now East Mills Estates and the LM Industrial Park and raised four children. Besides running the farm, Harley also began working construction. He was a fast learner and a natural leader so he quickly rose up the ranks. Harley was carpenter boss/general foreman on many buildings in the area. If you wanted the job to get done ahead of schedule and under budget, you called Harley. He was tough but fair and he made sure you earned your wages. But after a good week, he would often let the crews off on Friday afternoons with pay and usually buy the first case of beer as well. And, despite being management, for years he was also the district rep for the Carpenter's union.
Harley was a good man who had a good life. Tough, smart, outspoken, and independent, he lived his life on his own terms. Harley had a quick trigger but that was countered by a great sense of humor and a sense of fairness. He was one of a kind.
Harley was also survived by his wife of 30 years, Gretchen; four children, Philip (Lorraine), Jim (Sandie), Doug (Patty), and Nancy (Laury); five grandchildren; and three great-grandchildren.
Findagrave