South Pasadena High School
Alumni Association - Classes of 1907-2020
In Memory
William Barton Bridgeman - Class Of 1935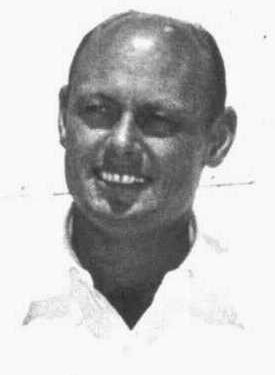 William Barton Bridgeman (1916-1968) American test pilot, 1949-1960. Flew the D-558-2 rocketplane and X-3. Declared the latest "The Fastest Man Alive" in 1951.
Bridgeman grew up in southern California. He flew B-24 bombers for the US Navy during World War II in Squadron VB-109 under Buzz Miller. His crew sunk the Japanese submarine RO-117, with 55 men aboard, on 17 June 1944. After the war he stayed in the Pacific, flying for several airlines. He obtained a bachelor of science degree from the University of California and became a test pilot for Douglas Aircraft in 1949. This led to pioneering flights on the D-558-2 rocketplane and X-3 Stiletto in the 1950s. He was listed as an astronaut candidate for the US Air Force's Man In Space Soonest program in 1958 (NASA was created instead and given responsibility for putting the first man into space).
Bridgeman was briefly famous, setting altitude records, and appeared on a cover of Life magazine in 1951 as the latest "The Fast Man Alive". He later left Douglas and flew flying boats on the run from Long Beach to Catalina Island. Alone on one of these flights, he crashed into the ocean on September 29, 1968, and was killed instantly.
At the time of his death, Bridgeman was 53 years old and had flown 14,000 hours, 3,000 of them in the Grumman G-21 he was flying. Because he was such a superb pilot, many felt the crash in clear weather may have been due to a heart attack. The cause was never determined and his body was never recovered. With his wife he wrote a book, The Lonely Sky, called "...an extraordinarily fine work; starkly honest, especially for the times, introspective without being self-absorbed, fair without false modesty, and a window into one of the golden ages of aviation..."
Bill Bridgeman was survived by his wife Jacqueline and son Chris.
Encyclopedia Astronautica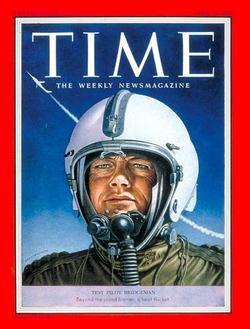 TIME - April 27, 1953