South Pasadena High School
Alumni Association - 1907-2020
In Memory
Russel E Burkett Jr - Class Of 1940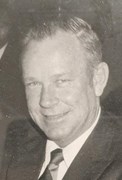 The world lost another member of The Greatest Generation. Russel Edwin Burkett Jr died December 25, 2017 in Carlsbad, California at the age of 95. He is survived by his four children Russel E Burkett III (SPHS '70) of Verdi, Nevada, Lori Burkett Howard (SPHS '72) of Oakhurst, California, Terry Burkett Hall (SPHS '75) of San Diego, Richard R Burkett (SPHS '77) of Paso Robles, California, their spouses and seven grandchildren. He is preceded in death by his wife Joan E Burkett of 62 years and a granddaughter.
Rus was born on November 7, 1922 and raised as the youngest of three children in the town of South Pasadena. Rus graduated from South Pasadena - San Marino High School and started attending the University of Southern California, where he was part of the football team and became a member of the Phi Kappa Psi fraternity. World War II interrupted his college years as he served in the US Navy as a Lieutenant (jg) for more than three years. His time served earned him a Purple Heart, the gratitude of our nation and the opportunity to return to USC to complete his bachelors degree in Business Administration in 1947. Throughout his life he was a huge supporter of Trojan football and golf. FIGHT ON !
Rus met and married Joan Goodwin in 1951, and moved his young family back to his South Pasadena roots. Rus and family embraced the South Pasadena community by serving as president of the SPHS Booster Club, a member of Rotary, the Jonathan Club, served on the Crippled Children's Society board, and an Oneonta Congregational Church deacon. He founded Roto-Litho (a print brokering corporation) in 1950, providing years of employment for himself, his sons, and many long-term employees. His passions always seemed to provide a huge work ethic for all that surrounded him. There was always 'work' that needed to be done in the yard, the family cattle ranch, and perpetual work on his golf game.
His retirement years led Rus and Joan to Ironwood Golf Club where they thoroughly enjoyed world travel and the Palm Desert amenities. His last seven years moved Rus and Joan closer to family and simpler lifestyle changes at La Costa Glen in Carlsbad, California, enjoying his gardening, ranching, and retirement activities until recent years.