South Pasadena High School
Alumni Association - 1907-2020
In Memory
Delbert 'Del' Connell - Class Of 1936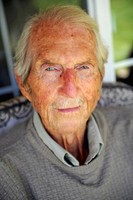 Longtime Tehachapi resident Del Connell, who created scores of Walt Disney comics among hundreds of others in his prolific career, died August 12, 2011, just weeks after receiving a lifetime achievement award at the annual pop culture convention known as Comic-Con. He was 93. Born in Cincinnati, Ohio on June 7, 1918, he moved with his family to Los Angeles in 1919. He attended South Pasadena High School and then Pasadena Junior College as an art student.
His widow, Ruth Connell, said, "It was a grand life. His most well-known activity is he wrote the Mickey Mouse strip that was syndicated all around the world in different languages. He really touched millions of lives in his lifetime. His whole life was comics."
The irony of the recent award-- what his widow called the crowning achievement of his career-- is that he earned it, in part, for not making a name for himself. It was common practice for the panels of artists and writers at that time to go unsigned, which meant that the creators worked anonymously. The knowledge that the comics industry would single him out for the honor meant the world to Connell, according to his son Brady, who accepted the award on his father's behalf after medical concerns made it impossible for the artist to be honored in person at the convention. Connell was suffering from cancer and the early stages of Alzheimer's disease.
In his long career, the mostly self-taught artist created memorable characters such as Super Goof, the daring alter ego of Disney's beloved Goofy, and wrote the basic storyline that was eventually adapted into the "Lost in Space" television series and motion picture. Del worked for Walt Disney from about 1938 to 1940 when he joined the Army during World War II. He was stationed in Panama, where he drew up strategic maps of the area. After the war, Connell started a 30-year career at Western Publishing, where he eventually became editor in chief. All the while, he continued his association with the Walt Disney Company.
"I'm most proud of him doing Mickey Mouse," Mrs. Connell said. "He did a three-panel gag for Mickey Mouse every day of his life, including Sundays, for 20 years."
The Connells moved to Tehachapi in 1987 and settled into retirement. In addition to his wife and son Brady, Del is survived by another son, Kelly Sean Connell, daughter, Casey Ann Noll, and four grandchildren.
The Bakersfield California, August 18, 2011