South Pasadena High School
Alumni Association - 1907-2020
In Memory
Marion Alice Cooper (Furnas) - Class Of 1941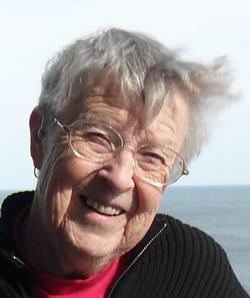 Marion Cooper Furnas was born on April 30, 1924 in Pasadena, California to Carl Vincent Cooper (SPHS '09) and Grace Conn Cooper. She was their first of five children, and grew up in South Pasadena and San Marino. After graduating from high school she attended Pasadena City College briefly before attending Colorado College in Colorado Springs. It was in Colorado that she served in the Navy (WAVES) during World War II and received a BS degree in Biology (botany) with a minor in mathematics.
Following the war she moved to Tucson, Arizona to attend the University of Arizona, where she received a BA in Education. There she met her husband of 27 years, James Furnas. They were married in California in 1948 and returned to Tucson where their first son, Miles, was born in 1950. Marion and James moved to San Marino together in 1951, bought their first home on Brentford Road, and had three more children, all born in Pasadena: Laura, Robin, and John. Marion began her teaching career as a substitute, a home teacher, and tutor until she was hired to teach full-time in the San Marino schools. She taught biology at San Marino High School and math at Huntington Middle School. In 1969 her husband was transferred to San Diego, and Marion briefly taught math at Monte Vista High School.
Marion loved to do many things beyond teaching. First and foremost was travel, and during her lifetime she was able to travel to Mexico, Canada, Europe, Japan, China, Australia, New Zealand, Argentina, and Uruguay. One of her favorite trips was to Alaska in 1968, and she returned there years later to work as an aide in a hospital in Nome. This experience was in addition to her other travels throughout the United States, her favorite destination being Washington, DC. Marion also loved to crochet, read, and was famous (or notorious) for her yearly Christmas letter that informed everyone of her activities, travel adventures, the family, and her friends that she had visited or taken trips with. She also loved plants, and until recently prided herself on taking care of plants that no one else wanted, and nursing them back to health.
Work and earning a living were important to Marion right until the end. For years she had sewn and crocheted many craft items that were sold at local art shows and craft fairs. She had regular customers who always bought what she made, but was always on the lookout for new ideas, new customers, and new venues. She continued to crochet items for sale until the time of her passing, December 12, 2016.
Marion is survived by three of her children - Miles of Townsville, Queensland, Australia, Laura Hawks of Hawaii, and Robin Martinez of Colorado; 12 grandchildren and five great-grandchildren. She is preceded in death by her parents, her younger siblings, her former husband, James Furnas, and her youngest son, John, who died in 2005 from Lou Gehrig's disease.
Kibbey-Fishburn Funeral Home, Loveland, Colorado