South Pasadena High School
Alumni Association - 1907-2021
In Memory
Julia Margaret Crozier (McClellan) - Class Of 1931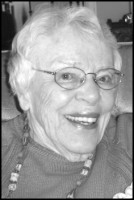 Margaret Crozier McClellan, 95, of Medford, Oregon, passed away August 27, 2009; she was born on April 16, 1914, in Los Angeles, California. Margaret grew up in South Pasadena, surrounded by a large, loving family of parents, grandparents, aunts, uncles, and cousins. At a church conference when she was 17, she met Graydon McClellan, who became her husband and devoted companion for the next 63 years.
A graduate of UCLA, Margaret was an accomplished musician, playing piano from the time she was six. She was also a wonderful singer and talented organist. She taught elementary school music and gave piano lessons. When the family moved to the East Coast, she became the assistant organist and children's choir director at Madison Avenue Presbyterian Church.
While her music was a major force in her life, Margaret's great love was her family. She loved raising her four children and adored her grandchildren and great-grandchildren. Margaret lived for family and traveled the world to spend time with them. The last 18 years of Margaret's life were spent living at the Rogue Valley Manor in Medford, Oregon. She led the Manor chorus, Joyful Noise, for years and was well-known for her musical talents and contributions, her intellectual curiosity, her keen interest in world affairs, and her indomitably upbeat spirit and loving friendship with one and all.
Margaret is survived by her four children, Joel, Roger, John, and Mary; daughters-in-law, Moni, Reni, and Cheryl; nine grandchildren; 21 great-grandchildren; and brother, Joe Crozier and his wife, Evelyn; as well as many loving friends.
A woman of great faith and a lifelong Presbyterian, Margaret found her spiritual home the last few years as a member of the UCC Church in Medford, where she thrived in the open spirit of compassion and intellectual and spiritual exploration.
Mail Tribune, August 30, 2009