South Pasadena High School
Alumni Association - 1907-2020
In Memory
James Logan Donnelly - Class Of 1938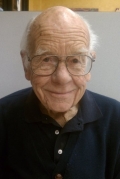 James Logan Donnelly Jr, a longtime resident of the Los Angeles area, died February 5, 2012 at Covina Community Hospital of age-related causes, surrounded by his children and close friend, Lu Stearn. He was 91. Jim was born July 2, 1920 to Cora (Smith) and James L. Donnelly Sr. in Ogden, Utah. He moved with his family to California at the age of two and lived in South Pasadena and West Covina until his death.
Jim graduated from South Pasadena High School in 1938. He enlisted in the Merchant Marines in early 1942 and spent the next four years in the North Atlantic and South Pacific. While on leave, Jim courted and married, in March 1945, his best friend Thor's younger sister, Carol Hamrin (SPHS '41). Jim and Carol settled in West Covina in 1955, where they raised their four children. They celebrated almost 51 years of marriage, until Carol's death in 1996.
As a young Merchant Marine, Jim worked below the deck in the engine room. He expanded on this experience into the field of mechanical engineering, working for several steam generation manufacturing firms in southern California and retiring from Parker Boiler Manufacturing in 1988. His time after retirement was spent traveling and visiting his children, grandchildren, six great-grandchildren in Santa Cruz, Seattle, and Parkdale, Oregon. Never a wallflower, Jim could strike up a conversation with anyone and who gathered many friends along the way. He was a proud, honorable individual who lived independently until the last week of his life. In addition to his wife, Carol, Jim was preceded in death by his brothers Ken (SPHS '41) and Charles (SPHS '41) Donnelly and his sister Ruthanne Overlock (SPHS '39). Survivors include his four children: Jim (Sue) of Parkdale, Oregon, Kevin (Karen Rathe) of Seattle, Sue Graziano (Tony), and Ted (Lisa), both of Santa Cruz; eight grandchildren; six great-grandchildren; as well as numerous nieces and nephews and their families.
Los Angeles Times, March 18, 2012