South Pasadena High School
Alumni Association - Classes of 1907-2020
In Memory
Jean Dorland (Rath) - Class Of 1941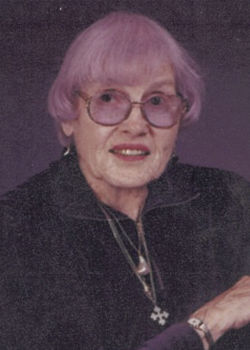 Jean Dorland Rath passed away peacefully June 13, 2016 at the age of 93. She was born February 4, 1923 in Alhambra to Robert and Harriette Boothe Dorland. Jean was a resident of Santa Maria, California since 1961 and a graduate of the University of Southern California. She was a World War II vet in the US Navy and a social worker for Santa Barbara County for 18 years until retiring in 1985.
Jean and her husband Bill traveled extensively all over the world until his passing in 1998. She was an active member of St Peter's Episcopal Church, Sisters of the Holy Nativity, American Association of University Women, Disabled American Veterans, Zeta Phi Eta Association, Santa Barbara County Coordination Council for the Mentally Disabled, the WAVEs, Meals on Wheels, and she was a volunteer at the Good Samaritan Shelter well into her 80s. Jean loved her community and served it willingly.
She was well known in the community for being 'The Purple Lady' and believed that purple was the most beautiful color in the world. She had been featured on several TV shows including, 'Eye on LA', 'David Letterman', 'Real People' and even a couple of Japanese stations.
Jean is survived by her sister Frances Dorland Morehead (SPHS '49) of Washington; sons Gary, David (Debbie), Christopher, and Jeffery; four grandchildren and two great-grandchildren.
Santa Maria Times, June 21, 2016