South Pasadena High School
Alumni Association - 1907-2021
In Memory
Elizabeth Doyle (Mattice) - Class Of 1934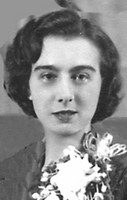 Elizabeth Mary Doyle Mattice (1915 - 2006) died December 9, 2006 at Highland Care Center in Salt Lake City, Utah. Elizabeth was 91, born August 15, 1915 to Jennie Whitehead and Joseph Henry Doyle, in Lowell, Massachusetts. She moved with her family to South Pasadena, California when she was 16. She married Roy R. Mattice in 1937. They had one child, Kenneth R. Mattice.
Elizabeth was active in the Business and Professional Women's Club for many years in California and in Utah where she was president of the local group as well as county and state groups.
Elizabeth was preceded in death by her parents, husband, son, two sisters, and two brothers. She is survived by her daughter-in-law, Jacque Mattice; her grandchildren Mark (Sylvia Joy), Jodi (Alan) Winterton, Lisa (John) Tobler, Susan (Ryan) Bracken, and Gail Mattice; 12 great-grandchildren; and nieces, nephews, sisters, and brothers-in-law. Many thanks to her care givers at Highland Care Center. The family would also like to thank the residents of Willowood Apartments in Sandy, Utah, where she lived for over 20 years, for all their love and caring in her behalf.
Salt Lake Tribune, December 13, 2006