South Pasadena High School
Alumni Association - Classes of 1907-2020
In Memory
Robert Lindsey Farmer - Class Of 1940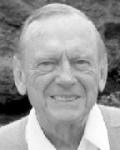 Robert Lindsay Farmer, resident of Pasadena, California, passed away on November 29, 2013, completing a life well-lived. Born in Portland, Oregon on September 29, 1922, Bob was raised in South Pasadena. After serving in the Pacific during World War II, he graduated from UCLA in 1946 with Phi Delta Phi and Beta Gamma Sigma honors. Bob earned his Bachelor of Laws degree from USC where he was a member of the Order of the Coif honor society. Admitted to the bar in 1949, Bob joined the Los Angeles law firm of Forster & Gemmill where he later became a name partner.
Since 1990, Bob has been a partner in Farmer & Ridley LLP. Throughout his 64-year professional career, Bob specialized in taxation, complex business transactions, and estate planning. Bob was a member of the Chancery Club of Los Angeles and served the California legislative process as a member of the state bar's Conference of Bar Delegates. Instrumental in its formation and operation, Bob served as president and a founding member of the board of trustees of The Edward James Foundation, an English charitable trust.
In 1943, Bob and Carmen Farmer married and began a 70-year partnership filled with love and respect. They travelled throughout the world (with particular affection for Europe-134 trips), forged many wonderful friendships, and enjoyed sharing golf and fine French wines. Bob was a longtime member of the Pasadena Wine and Food Society. While always emphasizing that the society was wine first, he enjoyed the many outstanding restaurant courses which, as cellar master, he helped pair with selections from the society's wine cellar. Bob was also a member of Annandale Golf Club and served as its president during a period of major club renovation.
The family will continue through Bob's three sons - Cort, Scott, and Eric; his five grandchildren - Lindsay Coffin, Todd Farmer, Danny Farmer, Aubrey Clever, and Troy Farmer; and his five great-grandchildren - Kallie Coffin, Gavin Clever, Josephine Farmer, and Nicole Coffin. Bob will be remembered for his intellectual curiosity, uncommon wisdom, uncompromising integrity, and wry humor.
Pasadena Star-News, December 5, 2013