South Pasadena High School
Alumni Association - Classes of 1907-2020
In Memory
Rosemary Flohr (Cinque) - Class Of 1941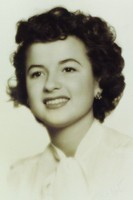 Rosemary (affectionately known as Posy) passed away November 14, 2013, just days before her 90th birthday at a retirement home in Santee, California. She was born December 9, 1923, in Bucyrus, Ohio, and was the first of five children of Wayland and Emily Flohr. The family moved west in 1925 to Pasadena, California and South Pasadena, where her parents reared and schooled the growing family. Rosemary attended 9th through 12th grade in South Pasadena and graduated in 1941.
Rosemary joined the Women's Army Corps in 1944 and served until the end of World War II at the Palm Springs Army Air Corps base. During this period, she won a beauty contest as "Miss Palm Springs" for which the first prize was three days work in Hollywood, acting in a movie. After her discharge from the Army she married, gave birth to her daughter Tracy, and started her career in the fledgling Tupperware business. After more than 30 years with that company, she retired to Palm Springs where she served as a police volunteer and a docent at the Living Desert Museum near Palm Springs. Rosemary was predeceased by three of her siblings and her only child, Tracy Mondragon. She is survived by her brother David (SPHS '43), and numerous nieces and nephews.
Rosemary's friends remember her as a beautiful, vibrant, humorous and generous person. She loved animals and donated to many animal rescue operations.
The Desert Sun, December 4, 2013