South Pasadena High School
Alumni Association - Classes of 1907-2020
In Memory
David L Forrester - Class Of 1937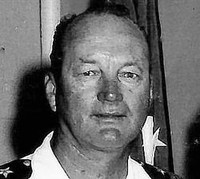 David L Forrester, Jr., age 93, died July 30, 2013. Mr. Forrester retired from the US Navy with the rank of Commander. He was born September 7, 1919, in Globe, Arizona, son of a successful mining engineer, later moving to California and graduating from South Pasadena High School.
Commander Forrester joined the Navy at the beginning of World War II. He became a naval aviator, survived the horrific sinking of his ship, the USS Bismarck Sea at Iwo Jima, earning a Purple Heart for the grievous wounds he suffered there. Continuing to serve after the war, he was temporarily stationed at Wright Patterson. He met his wife Viola in Dayton, Ohio; they married and moved to Key West, Florida, where he was a flight instructor. Commander Forrester's career was highlighted by his expert flying in Operation Argus, a live nuclear bomb test. As Operations Officer on the USS Boxer, he helped in the blockade of Cuba during the Cuban Missile Crisis. Some of his family's fondest memories occurred when they lived in Spain, while Commander Forrester was Operations Officer at the naval base in Rota. He retired in Dayton, eventually moving to Saint Leonard in Centerville, where he lived happily surrounded by friends for the remainder of his life.
He was preceded in death by his wife, Viola (Olding) Forrester. He is survived by a daughter, Sharon McGann; sons, David L (Carolyn) Forrester III and James M (Karen) Forrester; six grandchildren; and three great-grandchildren.
Dayton Daily News, August 15, 2013