South Pasadena High School
Alumni Association - 1907-2020
In Memory
John J Guinn - Class Of 1942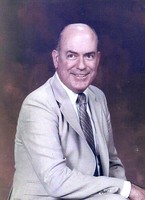 John Joseph Guinn, a resident of Indian Harbour Beach, Florida, died peacefully at Vitas Hospice, Merritt Island, on September 18, 2012, after a long battle with Alzheimer disease. He was 88 years old.
Jack was born July 20, 1924, in Los Angeles and raised from infancy on Amherst Drive, South Pasadena; the youngest child of Howard and Delta Kapp Guinn. He attended South Pasadena schools, South Pasadena-San Marino High School, and Pasadena Junior College for one year. He entered the Army Air Corps in 1943. Based in Sudbury, Suffolk, England, he flew combat missions over Germany with the 8th Air Force as a radio operator-gunner on B-17s. After his discharge as TechSgt in December 1945, he attended the University of Southern California and graduated with a BS in accounting in 1948.
Jack started his career as a Bank Examiner with FDIC and then was associated with several S&Ls in the Los Angeles area as treasurer or vice president. After retiring from Gibraltar S&L in 1989, he moved to Boca Raton, Florida to join his wife, Dorothy, who was a professor at Florida Atlantic University, then to Indian Harbour Beach in June 2007. As long as he was able, he participated actively in the communities in which he lived. He served all offices of the Lions Clubs of Altadena and Boca Raton, including a number of terms as president, was president of the Altadena Chamber of Commerce, treasurer of the Altadena American Legion, a dedicated volunteer at the Gumbo Limbo Environmental Complex in Boca Raton, and served many years as secretary of the 8th Air Force Historical Society, Florida Chapter. He traveled widely with his wife, not only in the United States, especially beloved Southern California often and England, which held many memories and where on a 1999 visit, he stood on Hardstand 16 for the first time since departing in his B-17 to fly back to the United States in 1945; but also to many far flung locales, including China, Egypt, Australia and New Zealand, Africa, and around the Horn of South America.
He is survived by his wife, Dorothy, of Indian Harbour Beach; daughters, Debra (Larry) Biggerstaff, of Long Beach, and Pamela (Dennis) Murray, of Rapid City, South Dakota; son, W. Randel, of Anaheim; adopted son, Jeffrey (Susan) of Eagle River, Alaska; and stepson, Gregory Solt, of Palm Springs; five grandchildren and four great-grandchildren.