South Pasadena High School
Alumni Association - 1907-2020
In Memory
James W Hadley - Class Of 1942 VIEW PROFILE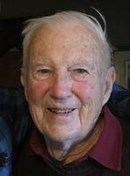 James 'Jim' Warren Hadley, 93, died January 31, 2018. He was born November 15, 1924 in Los Angeles County to Walter and Laura Hadley. He served three years in the US Naval Reserve during World War II as a student at Caltech, with one additional year of USNR service post-war. He received his BS in physics at Caltech, and his PhD in Nuclear Physics at University of California, Berkeley. In 1946, he entered employment at the UC Radiation Laboratory and then moved to Livermore in 1952 as one of the original team at the UC Lawrence Radiation Laboratory. There he continued for over 40 years in various scientific and administrative positions in R and then in Z Divisions, and principally as related to applied technology. A colleague remembers him as a role model who helped transfer the early Lab's scientific optimism and can-do spirit to the generation that followed him.
Jim enjoyed hiking, skiing, cycling, tennis, classical music, woodworking, puzzles of all kinds, and spending time with family. He was especially fond of repairing household articles. He was committed to public service through venues such as Friends of the Livermore Library, the Student Education Loan Fund, and the Tri-Valley Conservancy of open lands. He was an avid supporter of the Pacific Chamber Orchestra. In addition to his incisive wit and intellect, he was a caring husband and father, and a kind gentle soul.
He is survived by his wife of 63 years Roberta 'Bobbie'; children Susan, David (Robi), Carl (Bonnie), Karen, and Richard (Alice); and five granddaughters.
East Bay Times, February 27, 2018
Click here to see James W's last Profile entry.