South Pasadena High School
Alumni Association - 1907-2021
In Memory
Thornton H Hamlin Jr - Class Of 1942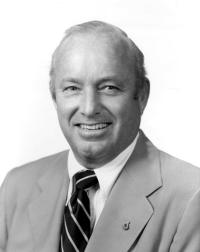 Thornton "Thorny" Hamlin, president of the 1983 Tournament of Roses and a member since 1945, died February 15, 2011. He was 86.
Hamlin, who served on the Tournament Auxiliary Committee until last year, had a long and "deep-rooted" family history with the association, Tournament of Roses President Rick Jackson said.
"He was dedicated to the organization, had a great personality, a great sense of humor, a great joy of life, a twinkle in his eye and a ready smile...he was someone who really had fun with the tradition," Jackson said.
Hamlin's connection to the ToR went back more than a century. His father, also Thornton, was a member from the 1930s until 1957, and photographs show his grandfather, Pasadena Mayor George Patten, taking part in the 11th Rose Parade in 1900.
Born in Los Angeles March 4, 1924, Hamlin graduated from South Pasadena High School and Claremont Men's College, now Claremont McKenna. He joined the ToR after serving for four years in the U.S. Navy during World War II, three of them in the submarine corps. When he was ToR president, Hamlin was director for major gifts and estate planning for Harvey Mudd College and his career was in fundraising for non-profits.
His grand marshal in 1983 was the late, legendary footballer Merlin Olsen and the theme was "Rejoice!" Hamlin rode in a carriage similar to the one his grandfather rode in for the 1900 parade.
Thornton is survived by his wife Peggy Buttress Hamlin (SPHS '44); four children, Gioia Hamlin Pastre (Larry), Howard Hamlin (Julie), Rick Hamlin (Carol), Diane Hamlin Jensen (Mike); and nine grandchildren.
Pasadena Star-News, February 16, 2011