South Pasadena High School
Alumni Association - 1907-2020
In Memory
David W Heron - Class Of 1938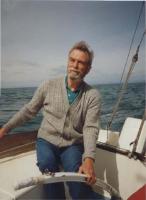 The family and friends of David W. Heron, librarian, author, and bibliophile, share a deep loss at his passing. David died peacefully January 8, 2009, at the age of 88, with his family near him, after an extended period of failing health. We are grateful that until almost the last he was able to be at his Aptos home of 34 years, with his wife Winifred.
David Heron's broad and distinguished career as a librarian, library researcher, and administrator are remarkable and noteworthy nationally and internationally. From his postgraduate days at Stanford in the 50s, to his retirement as Director of the UCSC Library, Heron was a visionary advocate for electronic intra-library resource exchange, with ongoing interests in computerized cataloging and Information Services associated with large university libraries. Yet for those who knew him, he is also remembered for his wise insights, his modesty, and his abiding sense of fairness and generosity. David's consummate modesty tended to conceal talents and interests, which included landscape painting, letterpress printing, and sailing.
David was born in Los Angeles March 29, 1920 to Elizabeth and Charles Heron. A native son of California and the son of a mining engineer, David's formative years were steeped in the landscape of the rugged and beautiful West, including occasional stints in western mining towns. These early experiences formed a lifelong interest in the history and lore of the western states. Before World War II, he attended Pomona College, first in chemistry, then later, embracing his love for books, Library Science. After graduation from Pomona in 1942, he enlisted in the U.S. Army Infantry, serving in Europe and achieving rank of first lieutenant. He was awarded the Purple Heart for injuries received at the Battle of the Bulge. After the war, he returned to California to marry Winifred Anne Wright, and to resume his studies in Library Science, receiving his BLS at Berkeley, and his Masters of Library Sciences at UCLA in 1951.
His early career included librarianships at the UCLA graduate reading room, the American Embassy in Tokyo, Japan 1952-53, the Assistant Directorship of Libraries at Stanford University and the Hoover Institution. In 1960-61, he returned to Japan for a year with his family where he served as Library Advisor to the University of the Ryukyus, in Naha, Okinawa. In 1961, Heron was named the Director of Libraries at the University of Nevada, Reno, serving also as President of the Nevada Library Association 64-66. From 1968-74 he was appointed Director of Libraries at the University of Kansas at Lawrence. There, he founded the South Park Press beginning a lifelong pursuit of fine letterpress printing. Throughout Heron's mature career in university librarianship, he was active in national and state library associations including the American Library Association Executive Board, the Association of Research Libraries Board of Directors, serving also as editor, contributor and reviewer to the major library journals.
With his appointment in 1974 as the UC Santa Cruz University Librarian, Heron returned to California with Winifred, the family and the letterpress, living in the tranquil coastal community of Aptos, an area he and Winnie had fallen in love with during their days at Stanford. He taught graduate courses at UC Berkeley's library school on the art and science of book binding. Following his Directorship at UCSC Library, David was appointed UCSC Senior Lecturer and Librarian Emeritus, and re-established a consultancy with Stanford's Hoover Library. He shared his love of travel with the whole family; and by 1996, he and Winifred could proudly say that they had visited all seven continents. In retirement, David acquired a small but sturdy sailboat he kept moored at Moss Landing, and pursued his writing, authoring two popular books on local history, Night Landing: A Short History of West Coast Smuggling, and Forever Facing South: The True Story of the S.S. Palo Alto, and editing A Unifying Influence: Essays of Raynard Coe Swank. In retirement, David was a fixture at the local branch of the Santa Cruz Public Library where he regularly volunteered.
David is survived by his wife, Winifred; daughter Holly, sons James and Charles; two grandchildren; and his sister Elizabeth (SPHS '40).
Santa Cruz Sentinel, February 8, 2009