South Pasadena High School
Alumni Association - 1907-2020
In Memory
E William 'Bill' Herrmann - Class Of 1942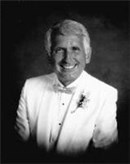 Ernest William 'Bill' Herrmann Jr (July 31, 1924 - January 29, 2015) was born in Detroit, Michigan, son of Lucille and Ernest Herrmann, and moved to California in 1927. He attended UCLA but World War II interrupted his college years. A commissioned First Lieutenant in the US Army, he was stationed in the Philippines. After returning stateside, Bill resumed his education, graduating with a major in business.
He immediately joined Montgomery Ward, starting what became a 40 year career. Highlights included developing and opening the chain in Arizona, and a promotion to the West Coast Vice President which brought him to Newport Beach. Years after retiring in 1986, Bill often reflected fondly on what he felt was a fulfilling professional life.
Retirement meant time to enjoy tennis, golf, and swimming in the Pacific Ocean. That is, when he was not traveling the world with his family.
Bill is survived by his beloved wife Julie, his adoring daughter Wendy and her husband Hoyt, and his sister Barbara Herrmann Bechert (SPHS '41). He was predeceased by his brother Bob Herrmann (SPHS '47).
Daily Pilot, February 25, 2015