South Pasadena High School
Alumni Association - Classes of 1907-2020
In Memory
George Haring Hughey Jr - Class Of 1940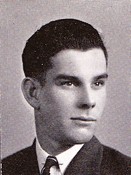 George Haring Hughey Jr., 84, a retired Navy night fighter pilot and aerospace executive, died at Sibly Memorial Hospital on September 8, 2006 of complications following a fall down the stairs at his home in Potomac.
He was a Honolulu native and a member of the U.S. Naval Academy's Class of 1945, but he graduated a year early. He served in the Pacific during World War II aboard the battleship Massachusetts, participating in seven major battles, including Formosa, Okinawa, Iwo Jima, and the Philippines, and weathering a severe typhoon and Japanese kamikaze attacks. In 1946 he was transferred to the destroyer Stickell, which was sent to the China station during the Communist-Nationalist civil war. When the Communists cut the rail lines, senior officers were trapped in Beijing, and George was left to navigate the Whangpoo River, dodging junks trying to ram U.S. ships in order to collect damage reparations.
Mr. Hughey received his wings in 1949 and became a Navy top gun at the Fleet Air Gunnery Unit at China Lake, California. In 1954 he received a master's degree from Princeton University. He then commanded a team of fighter pilots trained to fly from carriers at night and in extreme weather. He tested aircraft at the Patuxent Naval Air Test Center. At the Navy's Bureau of Aeronautics, he was project officer for weapons systems and aircraft, including the X-15 spacecraft.
After 16 years of active duty, George entered the reserves in 1960 and retired as a commander in 1968. He joined General Electric Co.'s new space business, working on the Apollo moon ship study and managing classified satellite programs. He helped pick the location where astronauts landed on the moon and was a member of the board that met in Houston to do a safety review before each moon shot. He also took part in the design and testing of the Manned Orbiting Laboratory, a predecessor of the current space station.
After the orbiting laboratory program was canceled, Mr. Hughey tested space materials as protective insulation for the proposed Alaska pipeline. His pipeline test rig was at Inuvik in Canada's Northwest Territories, and while he was building it, he and his wife piloted a single-engline bush plane 6,000 miles around the high Arctic.
By 1972, when GE won a $200 million contract to insulate the Alaska pipeline, Mr. Hughey was assistant to the president at Fairchild Industries in Maryland, where he helped found Fairchild's American satellite unit. Among his favorite achievements were the first printing of the Wall Street Journal via satellite and directing the building of Fairchild's Earth station on Midway Island in the Pacific. In 1992, after multiple corporate mergers, George retired from GTE. He spent his summers on Monhegan Island in Maine, where he designed and built a solar electric system for his cottage and helped residents acquire solar energy.
Survivors include his wife of 61 years, Ann Conolly Hughey of Potomac; a daughter, Ann Hughey Feibusch of Potomac; and two grandchildren.
The Washington Post, September 16, 2006