South Pasadena High School
Alumni Association - 1907-2020
In Memory
John Ingamells - Class Of 1940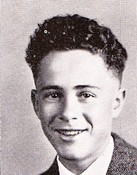 John Ingamells passed away peacefully in his home in Pleasanton, California on March 19, 2018 at the age of 95. He is survived by his loving wife of nearly 30 years, Mary Ingamells, and six of his eight children, Jan Rydzewski, Matt Ingamells, Yvonne Ceresa, Paul Ingamells, David Ingamells, and Mike Ingamells. He was predeceased by his two daughters, Susan and Eileen. He is also survived by two sons-in-law, four daughters-in-law, 10 grandchildren and one great-grandson.
John was born in Paso Robles and grew up in South Pasadena. He served in the Navy in World War II, right out of high school, as an airplane mechanic in the South Pacific. After his service, he attended college and earned his BS and Masters degrees in engineering from UC Berkeley. He spent most of his working life at Chevron, retiring as a Senior Research Engineer in 1986.
In retirement, John enjoyed photography and the outdoors, traveling around the world with Mary. In his later years, he took up painting and making large model airplanes.
East Bay Times, April 8, 2018