South Pasadena High School
Alumni Association - Classes of 1907-2020
In Memory
Myron K "Mike" Jordan - Class Of 1940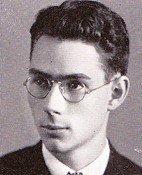 Myron K. "Mike" Jordan was a journalist, teacher, and respected leader in the Northwest's public relations industry. Mike died in Seattle, December 2, 1997 of a stroke. He was 75.
Mike was born October 30, 1922 in Chicago, Illinois. He was fascinated by the news business and earned a bachelor's degree in English at the University of California at Berkeley. After serving in the U.S. Army during World War II, he worked as a reporter for several California newspapers before joining the Pacific Telephone and Telegraph Company in San Francisco. He married Evelyn Lynn in 1948. In 1956 he transferred to Pacific Northwest Bell in Portland, Oregon and later worked in Seattle. While in Portland, he earned an advanced degree at Portland State University. He retired from the company in 1981 after 31 years in its public relations and advertising departments.
After retiring from the Bell System, Mr. Jordan earned a Ph.D. in journalism history at the University of Washington and taught public relations and communications courses at the University of Washington, Washington State University, and Western Washington University. He was active in many organizations, including the Portland Advertising Federation and the Public Relations Society of America. He also volunteered for many charitiable efforts.
Mike won awards for his graduate research. Quiet, focused, and competitive, he also was a formidable opponent on the tennis court. Suvivors include Evelyn, his wife of 49 years; his daughter Melanie Kay Levy of Berkeley, CA.; sister, Ellen Jordan Fiske (SPHS '35) of Coulterville, CA.; and two grandsons.
The Oregonian, December 5, 1997 and The Seattle Times, December 8, 1997