South Pasadena High School
Alumni Association - 1907-2020
In Memory
John Robert Krom - Class Of 1940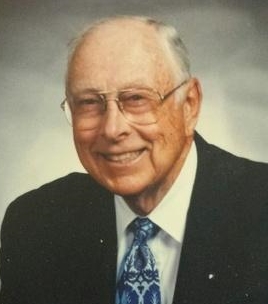 John Robert Krom went to be with the Lord on March 7, 2015. He came into the world on October 15, 1921 and was welcomed by his parents, George and Martha Krom, along with his two older brothers Gilmore (SPHS '30) and William (SPHS '40). He was raised in South Pasadena.
John packed a lot of life into his 93 years. Those who knew him well knew of his many talents, his dedication to his lifelong sweetheart, Charlotte Anne Krom, his love for his family, and his devotion to our Lord and Savior. In 1938, during a Bulldog Band trip, he caught the eye of his one and only, Charlotte Sutterley, who would later become his wife, best friend, and partner in life. They were wed in 1942. They welcomed their first daughter, Charlene Roberta in 1943. John enlisted in the Navy in 1944. In 1946 they welcomed their second daughter, Cynthia Lee.
John later built a successful business in the glass industry, Crown City Glass, in Pasadena. He and Charlotte moved to Utah in 1973, where they built a home in Toquerville. During their years in Toquerville, John was an active member of his community. He assisted in many town parades by building floats and he represented Toquerville city in the state fair seed display competition for many years. John worked hard his entire life. He believed in work ethic, honesty, and doing a job well. He loved with all his heart and he trusted and believed in everyone. He maintained many lifelong friendships. John loved watching his grandchildren and great-grandchildren learn, play, and grow. John and Charlotte enjoyed sitting outside at the end of a long day, appreciating the beauty that God created. John loved his relationship with the Lord, and he thrived in his continued study of the Bible at Calvary Chapel. He pioneered the Southern Utah Chapter of the Gideon's International, distributing Bible's in new and existing hotel rooms. John enjoyed speaking in church, and working side-by-side with other members on church improvement projects.
On March 7, after a lengthy stay in the hospital, John came home to his comfortable surroundings. He passed away peacefully holding the hands of his wife and daughter. There are no words we can use to express the magnitude of the impression this wonderful man has made on all of our lives. In our eyes there is no one greater. He was truly our hero. John is survived by his wife, Charlotte Anne, his daughter Cynthia (Mike) Stieger, three grandchildren and three great-grandchildren. He was welcomed into heaven by his oldest daughter, Charlene. We know there was a grand celebration upon his arrival.
The Spectrum & Daily News, March 25, 2015